Wait, there's a Disclaimer!
---

---
None of this is Canon, but as far as Azriel is concerned, it's canon to them. It shouldn't be considered canon in the "Steven Universe" universe, and nobody has to follow the canon rules of TopazriVerse.
~*~
Strawberry Jasper is a quartz under the ownership of Argyle Pink Jubilee Diamond.
Appearance
TBA
Personality
TBS
Abilities
TBA
Relationships
TBA
Trivia
TBA
Gemology
TBA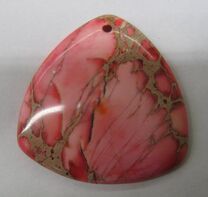 Ad blocker interference detected!
Wikia is a free-to-use site that makes money from advertising. We have a modified experience for viewers using ad blockers

Wikia is not accessible if you've made further modifications. Remove the custom ad blocker rule(s) and the page will load as expected.