Power Couple Is The Shipping Between Pink Citrine And Orange Diamond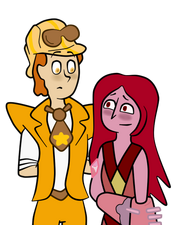 Orange Diamond Has Been with Pink Citrine For About A year, it was First Announced In The Gem Life RP, Pink Citrine Has Showed Many Signs Of Affection For Orange Diamond. Examples: Kissing (Not Yet, But Soon) Hand Holding Blushing.
First Showed
"Power Couple" was First Announced By Orange Diamond In The Gem Life RP, Pink And Orange Life in the same House. OD introduced Pink To Jet (Aguanochopace)  and Celestite (PeriandLapis007).
First Meet
OD and PC meet On Earth During the War, They Were in the same Unit, OD and PC Figured Out They Were Complete Opposites, Polar Complements, As PT called Them. They Got Together In 2015.
Universe Jumping
Orange Diamond And Pink Citirne Bothe Have an extensive Knowledge Of the Universe, Including RP's, They Jump From Universe to Universe.
Ad blocker interference detected!
Wikia is a free-to-use site that makes money from advertising. We have a modified experience for viewers using ad blockers

Wikia is not accessible if you've made further modifications. Remove the custom ad blocker rule(s) and the page will load as expected.