Morganite is a main protagonist in the "Crystalline Saga" created by Lenhi
He is a former Pink Diamond follower who fled Homeworld with the Crystalline Gems to the planet Ethos.
Personality
Morganite is a very outgoing and enthusiastic Gem. In contrast to Obsidian, he is very reasonable and flexible, which helps him adjust to life on Ethos much more easily than for the Crystalline Gems.
Appearance
Morganite is an average-sized Gem with peach-colored skin. He has short light-pink and straight hair with uneven bangs. His eyes are a pink salmon color.
He currently wears a collarless peach and white short-sleeved jacket with a diamond pattern on each shoulder. Underneath he wears a white shirt with a peach diamond on the middle of its collar. He wears misty rose pants that are rolled up to the bottom of his knees. For footwear, he wears peach platformed boots with a white triangle and diamond pattern at the collars, white soles, and misty rose toe caps.
Abilities
Morganite possesses standard Gem abilities and traits.
Fusions
Fusing with Obsidian forms Rubellite
Fusing with Moonstone forms Kunzite
Fusing with Obsidian and Moonstone forms Mystic Fire Topaz
Skill set
TBA
Gemology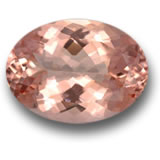 Morganite is known both as an angel stone and a heart stone.

It can bring love to one's live or rekindle old love.
As an angel stone, it is known to help with communicating with angels.

Morganite also brings compassion, empathy, self-control, and patience.
It is often used to help cleanse the body of stress and anxiety as well as ease the pain of separation.
It is said to carry an energy that can warm the soul of its wearer.
All beryl gems, including morganite, represent purity and potential.
Gemstone
| Image | Description |
| --- | --- |
| | Morganite's gemstone is located on his throat. The shape of the gemstone itself is triangular and similarly features a triangular facet. It has a dark red ring around its edge and is symmetrical on both sides. |
Gallery
Regenerations
TBA